Page 7 - Peus Nachf. Katalog 428
P. 7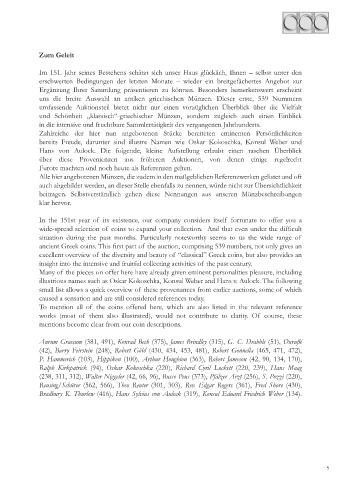 Zum Geleit

              Im 1 1. Jahr seines Bestehens schätzt sich unser Haus glücklich, Ihnen – selbst unter den
              erschwerten  Bedingungen  der  letzten  Monate  –  wieder  ein  breitgefächertes  Angebot  zur
              Ergänzung  Ihrer  Sammlung  präsentieren  zu  können.  Besonders  bemerkenswert  erscheint
              uns  die  breite  Auswahl  an  antiken  griechischen  Münzen.  Dieser  erste,   39  Nummern
              umfassende  Auktionsteil  bietet  nicht  nur  einen  vorzüglichen  Überblick  über  die  Vielfalt
              und  Schönheit  "klassisch"-griechischer  Münzen,  sondern  zugleich  auch  einen  Einblick
              in die intensive und fruchtbare Sammlertätigkeit des vergangenen Jahrhunderts.
              Zahlreiche  der  hier  nun  angebotenen  Stücke  bereiteten  eminenten  Persönlichkeiten
              bereits  Freude,  darunter  sind  illustre  Namen  wie  Oskar  Kokoschka,  Konsul  Weber  und
              Hans  von  Aulock.  Die  folgende,  kleine  Aufstellung  erlaubt  einen  raschen  Überblick
              über  diese  Provenienzen  aus  früheren  Auktionen,  von  denen  einige  regelrecht
              Furore machten und noch heute als Referenzen gelten.
              Alle hier angebotenen Münzen, die zudem in den maßgeblichen Referenzwerken gelistet und oft
              auch abgebildet werden, an dieser Stelle ebenfalls zu nennen, würde nicht zur Übersichtlichkeit
              beitragen.  Selbstverständlich  gehen  diese  Nennungen  aus  unseren  Münzbeschreibungen
              klar hervor.

              In  the  1 1st  year  of  its  existence,  our  company  considers  itself  fortunate  to  offer  you  a
              wide-spread selection of coins to expand your collection.  And that even under the difficult

              situation  during  the  past  months.  Particularly  noteworthy  seems  to  us  the  wide  range  of
              ancient Greek coins. This first part of the auction, comprising 539 numbers, not only gives an
              excellent overview of the diversity and beauty of "classical" Greek coins, but also provides an
              insight into the intensive and fruitful collecting activities of the past century.
              Many of the pieces on offer here have already given eminent personalities pleasure, including
              illustrious names such as Oskar Kokoschka, Konsul Weber and Hans v. Aulock. The following
              small list allows a quick overview of these provenances from earlier auctions, some of which
              caused a sensation and are still considered references today.
              To  mention  all  of  the  coins  offered  here,  which  are  also  listed  in  the  relevant  reference
              works  (most  of  them  also  illustrated),  would  not  contribute  to  clarity.  Of  course,  these
              mentions become clear from our coin descriptions.

              Aurum Graecum (381, 491), Konrad Bech (37 ), James Brindley (31 ), G. C. Drabble ( 1), Duruflé
              (42),  Barry  Feirstein  (248),  Robert  Göbl  (430,  434,  4 3,  481),  Robert  Gonnella  (46 ,  471,  472),
              P. Hammerich (103), Hippikon (100), Arthur Houghton (363), Robert Jameson (42, 90, 134, 170),
              Ralph  Kirkpatrick  (94),  Oskar  Kokoschka  (220),  Richard  Cyril  Lockett  (220,  239),  Hans  Maag
              (238, 311, 312), Walter Niggeler (42, 66, 96), Busso Peus (373), Pfälzer Arzt (2 6), S. Pozzi (220),
              Reusing/Schürer  ( 62,   66),  Theo  Reuter  (301,  303),  Rev.  Edgar  Rogers  (361),  Fred  Shore  (430),
              Bradbury K. Thurlow (416), Hans Sylvius von Aulock (319), Konsul Eduard Friedrich Weber (134).